What Can Small Businesses Expect from the SEO Community in 2013?
SEO is an ever expanding, changing, developing process.  Some even consider SEO a game of sorts.  If you want proof, look no further than Google's never-ending cycle of algorithm tweaks.  In fact, there were 65 updates to Google's algorithm in August and September alone.
With all these changes, it's easy to succumb to the relentless beating small business owners face when dealing with marketing.  However, we must not get bogged down by the day-to-day operations.  Instead, we need to have a big-picture outlook on where the future of SEO is headed.
Remember the underlying goal behind all of Google's actions: to provide the best possible results to the searchers.  By keeping this in mind, we can anticipate several big SEO opportunities in 2013.
1. Quality Will Win Every Time
We should probably be appalled by the power, knowledge and hidden talents of Google.  In the meantime, we'll simply be amazed by the fact they will soon be able to use a machine to "read" content and determine quality.
As it is, Google already claims to have a very thorough understanding of what they deem a quality site.   Break one of their stylistic, topical or structural guidelines and you're done for.
What do you need to do to stand out from the crowd in 2013?  Write quality content.  Engage readers in a discussion.  Provide substantial insight.  Then, do all of that over and over again.
2.  Social Will Become Even More Important
Google will begin to put more value on the possible correlation between factual insight and social sharing.
This will only be enhanced by Facebook's new search feature.  The wealth of social data that both Facebook and Google+ have access to is staggering.
Additionally, searchers want more than just the bare bones.  Facts alone aren't going to draw them in.  They are attracted by the opinions and experiences of their peers.  And social sharing tends to be the best indicator of popular opinion.
3.  Un-Friendly Mobile Sites Will Be Left in the Dust
Optimizing your site for mobile devices is no longer optional.  If your site doesn't conform to the requirements of the most popular devices, your SEO efforts are wasted.
Not only do you need to be worried about user experience, you need to optimize for user expectations too.  The vast majority of smartphone users say their biggest gripe is slow loading sites.  If a site takes longer than four seconds to load, users are officially annoyed.
Another thing to keep in mind when it comes to mobile devices and SEO is keywords.  Research shows mobile query strings are 25% shorter than desktop searches.
4.  Leverage of the Knowledge Graph Could Make Things Interesting
Have you seen Google's new Knowledge Graph?  The Knowledge Graph is the information that appears at the top right side of the screen when you perform a search.  For example, if you are searching for "Clearwater, Florida," a panel will appear with some basic information about the city, the geographical basics, a map of the area, and special points of interest.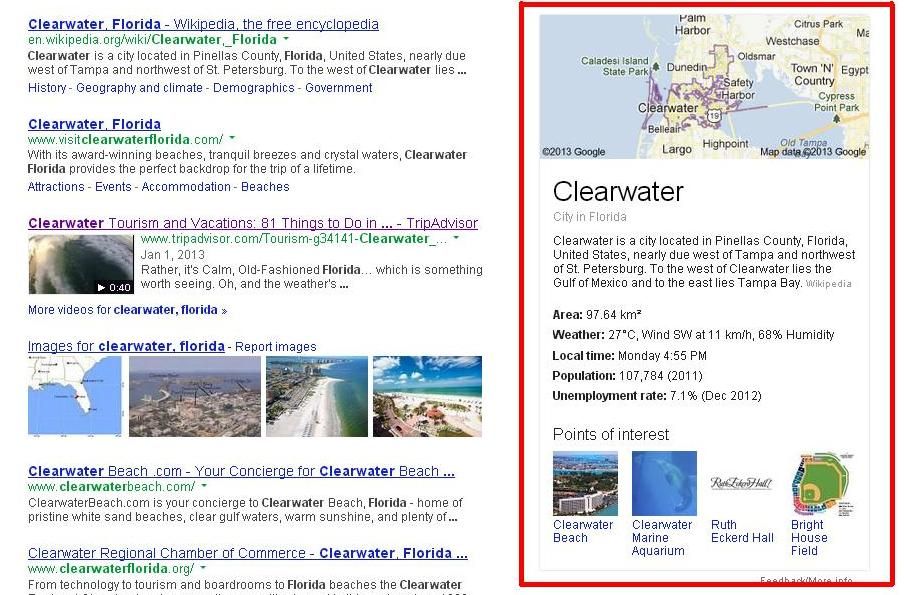 The information that appears in the Knowledge Graph is pulled from Wikipedia, Freebase, and the CIA Word Factbook.  By understanding how to leverage these primary sources of information, small businesses can optimize their presence and enhance their exposure.
For example, since Wikipedia is a primary source of information, an entry in the online encyclopedia is a good place to start.  Develop a high quality Wikipedia page for your brand and then validate it by linking to trusted sources.  Next, sit back and watch the SEO effects.
Google will forever be experimenting with the search structure.  Their goal might be to improve the searcher's experience.  However, it could be argued that their efforts are just as much about keeping online markers on their toes!  Be on the lookout for these top trends for the SEO community in 2013.  Let us know if you have any insight we failed to mention.
Recent Posts
Simplify payroll and receive 2 months FREE* when you sign up for TeamPay by ADP®.
Written By: SOHO
ADP Small Business Grant Contest
Written By: SOHO
13TH ANNUAL SMALL BUSINESS BC AWARDS CEREMONY
Written By: SOHO
Written By: SOHO
Written By: SOHO
Soho This Week
Jumpstarting Your Startup: The Unifying Power of Branding
Written By: Robert Cordray
6 Ways For Small Businesses To Improve Communication
Written By: SOHO
Changes In SEO Trends For 2013
Written By: SOHO
Join the conversation on Twitter!
Written By: SOHO
8 Attributes of a Real Entrepreneur That Run Deep
Written By: SOHO
Tweets by @SohoMarketing